Welcome!
Important program news
Swampscott Community Power will increase its investment in New England-based renewable electricity and also change prices with most participants seeing a slightly lower price. The changes will take effect with November 2021 meter reads with new prices first appearing on December 2021 electricity bills. All prices will be lower than National Grid's proposed 6-month winter residential Basic Service price, though future savings cannot be guaranteed.
The changes are the result of a new electricity supply contract with NextEra Energy Services, which will take effect as Swampscott's current contract with Direct Energy comes to an end. This new contract locks prices for three years. All current, active participants will be automatically enrolled into the new contract with NextEra Energy Services. No action is required by current program participants.
Check back for the official announcement from the Town of Swampscott.
See current and future program prices.
Welcome to Swampscott Community Power, a Town electricity program designed to make 100% renewable energy available to Swampscott residents and businesses. Swampscott Community Power gives electricity customers in Swampscott a Town alternative to National Grid's Basic Service and to other electricity supply offers in the marketplace, access to cleaner electricity, and long-term, stable pricing (though savings compared with National Grid's Basic Service cannot be guaranteed).
New prices take effect November 1

You may choose between three options in Swampscott Community Power:
Standard Green – 14.406 ¢/kWh – Provides electricity that is 100% from renewable sources, primarily wind projects outside of New England, now with an additional 15% from "premium" renewable energy sources in the New England region, in addition to the minimum required by the state. Standard Green is the default program offering.
New England Green – 13.583 ¢/kWh – An option that provides electricity that is 100% from "premium" renewable sources in the New England region. By opting up to New England Green, you increase the demand for renewable energy produced in New England, which drives the development of new renewable energy projects on the New England power grid.
Basic – 10.603 ¢/kWh – An option that provides only the minimum amount of renewable electricity required by law.
| | |
| --- | --- |
| How to participate | All new electricity accounts in Swampscott will be automatically enrolled in Swampscott Community Power within a few months of being opened. You will receive a letter in the mail before being enrolled with program information. You may also choose to enroll online or with a phone call. Learn about enrolling. |
| Compare the cost | Use this online calculator to compare the program price with the most recent 12-month average of National Grid's Basic Service prices and to see the greenhouse gas emissions avoided by participating in Swampscott Community Power. Or compare program prices with National Grid's current 6-month Basic Service price. |
| How it works | A municipal electricity aggregation is a group electricity purchasing program. Participating in Swampscott Community Power will change your electricity supplier and the price National Grid uses to calculate the supply charges on your electricity bill, but participating will not replace National Grid as your electric utility. Learn how aggregation works. |
Example National Grid bill
Swampscott Community Power is integrated into your existing National Grid electricity bill. You can use your National Grid bill to learn if you are enrolled in the program and in which option you are enrolled.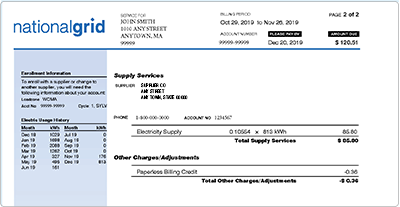 Savings cannot be guaranteed
Please note that, while Swampscott Community Power seeks to provide competitive prices, there is no guarantee of savings compared with National Grid's Basic Service price because future National Grid prices are unknown.
Protect yourself
If you receive mail about an electricity offer, read it carefully before signing anything. If you do not see:
1. the Swampscott Community name and…
2. …the Swampscott Town seal
the offer is NOT from Swampscott Community Power.
Also, please remember, National Grid will never knock on your door or call you to talk about your electricity bill. National Grid communicates in writing, and their correspondence always bears their logo. If someone calls claiming to be from National Grid, they are not. They are from a private company trying to get your business.