Welcome!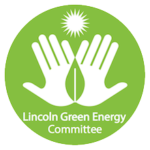 Lincoln Green Energy Choice is an electricity aggregation program, which is a type of group electricity purchasing program for Lincoln residents and businesses from the Town of Lincoln. Lincoln Green Energy Choice gives electricity customers in Lincoln a Town alternative to Eversource's Basic Service and to other electricity supply offers in the marketplace, cleaner electricity, and long-term, stable electricity supply prices (though savings compared with Eversource's Basic Service prices cannot be guaranteed).
Lincoln electricity customers who have Eversource's Basic Service were automatically enrolled in Lincoln Green Energy Choice with their March 2021 meter read and will see a Lincoln Green Energy Choice price on their April 2021 electricity bill. The automatic enrollment model is in accordance with state law.
Download the notification letter (PDF)
Participation is NOT required. You may opt out at any time with no penalty or fee.